Belgium: Honorary Consulate of Ukraine in Belgium – Limburg Province shared an update of a donation of about 24.000 euros from ASET asbl to vzw to save war-torn Ukraine EU.
A Walloon and a Flemish non-profit organization join forces to help war victims in Ukraine.
The Honorary Consulate of Ukraine represents the interests of Ukraine in Belgium and expresses gratitude to ASET asbl (Accueil – Santé – Enfants de Tchernobyl). Since 1991, no fewer than 1,710 Belarusian child victims of the nuclear disaster in Chernobyl could enjoy a holiday in one of 1.082 Belgian host families.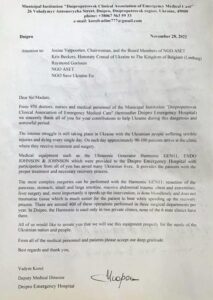 Along with this, the wave of covid already slowed down the functioning of the non-profit organization and because of the unjust war started by Russia in Ukraine, children from Belarus can no longer leave the country.
Josine Verpoorten, founder and chairwoman, together with the board took the 'unfortunate' decision to stop the operation of their organization. Aid packages that had already been prepared were sent for children in Ukraine.
She mentioned in the statement, "Vzw Save Ukraine EU received a wonderful donation of 24.000 euro!"
In the spirit of vzw ASET, these funds will be used to provide medical assistance to the war victims in Ukraine.
A medical device (Ultrasonic Generator Harmonic GEN11) with the necessary accessories (for a total value of 20.000 euro) has already been purchased for the Dnipro Emergency Hospital. With this device, the most complex operations can now be performed on the stomach, small and large intestine, massive abdominal trauma, chest and liver without major blood loss and with better prospects for healing and a faster recovery. Dr Vadym Korol, Deputy Medical Director and his team expressed their gratitude through the accompanying photos.