United Kingdom: Prime Minister Boris Johnson has a meeting with the President of Guyana named Dr Irfaan Ali. They had a discussion over the important matters related to the Coalition of Forest Alliance Initiative by the PM. 
On the official Facebook account of the President, it has been mentioned and highlighted that "His Excellency, President Dr Irfaan Ali, today, held discussions with Prime Minister of the United Kingdom, Boris Johnson on matters relating to Guyana's agriculture agenda, the country's energy potential and Prime Minister Johnson's Coalition of Forest Alliance Initiative."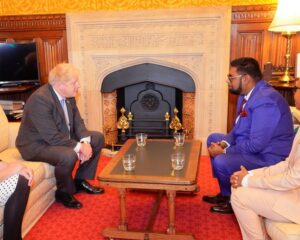 Moreover, the post included, "The Guyanese Head of State was joined by the Minister of Tourism, Industry and Commerce, the Honourable Oneidge Walrond and the Director of Projects at the Office of the President, Mrs Marcia Nadir-Sharma.
UK High Commissioner to Guyana, Jane Miller OBE, was also at the engagement."
"President Ali and his delegation are in England to participate in the Caribbean Council's House of Lords annual reception, to be held today. Since he arrived in London, the President has led the Guyana Investment Seminar and has engaged with investors at an investment roundtable."
President Ali is on a visit to London, England. In the official Facebook account of the President, it has been stated that "His Excellency Dr Irfaan Ali highlighted his vision of Guyana's dynamic future at the Caribbean Council's House of Lords Annual Reception today in London."
"The event, which attracted scores of professionals, who are active in politics and business, included UK politicians, UK and Caribbean business leaders, other international investors, NGOs and members of the Caribbean community in the United Kingdom."
"During his address, the President emphasized Guyana's rapid growth and the systems in place to not only create new opportunities but bolster traditional sectors as the country builds a vibrant, multifaceted economy."
Furthermore, it noted, "Minister of Tourism, Industry and Commerce, the Honourable Oneidge Walrond; CEO of GO-Invest, Dr Peter Ramsaroop and Director of Projects at the Office of the President, Mrs Marcia Nadir-Sharma, were present."