Colleagues from Denmark, Netherlands, Italy, Spain, UK and Belgium came together in the team.blue Ghent office to attend the team.blue group Talent Acquisition (TA) meeting organised by the CHRO Sylvia Groenewold.
The purpose of this meeting was to combine expertise across brands and countries and to connect as a team aiming to become stronger together. Working on the mission of uniting technology skills and diversity of thought, the team focused these two days on determining and developing the team.blue TA scope and process.
And, of course, it was an opportunity to meet each other in person, strengthen the bond, and have fun!
In the evening, the team had the pleasure of dinner at Epiphany's Kitchen restaurant along with the HR Lead for Belgium, Annelies De Pryck and HR Assistant, Jessica De Grauwe.
Thanks to Aju Krishna, Anne Nørgaard, Gianluca Guerrato, Giovanna Calmon, Hedda Chester, Isa den Drijver, Juliana Alves, Lydia Mouw, Stijn Vandendriessche and Tom Brouwer for taking part in this inspiring meeting. And, thanks to Rija Inam for joining us online. The team surely missed meeting you in person.
The Talent Acquisition team is now excited for the next steps, working together to strengthen the position on the employer market and to build the best candidate experience at team.blue.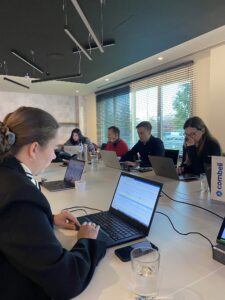 "I'm very happy that I had the opportunity to attend the team.blue TA meeting. It was two exciting days in which we could share the knowledge and thoughts in an open and energising session. I'm glad I have amazing colleagues, it was the first time I have met some of them in person, but it felt as if we already knew each other for longer. It's the magic of working remotely. I'm now ready to put the strategy into practice and help bring the TA team to the next level." Juliana Alves
"Happy and proud employees is one of team.blue's strategic commitments. And that is how I feel after spending the last 2 days with a great team of TA professionals. We made significant progress to becoming the one team.blue Talent Acquisition team , sharing the SWOTs, brainstorming on the TA scope, defining the TA process and determining the priority projects. I look forward to continuing the journey we started in close collaboration as one team." Sylvia Groenewold