9573 Pte James Foster of the 1st Battalion, Coldstream Guards, was an early casualty of the First World War when he was killed in action on this day, 25th October, 1914.
James, a native of Sheffield, was 18 years and 10 months old when he attested with the regiment in Sheffield on the 17th April 1912, and this photograph of him, which would be published in the Sheffield Daily Telegraph on the 5th December 1914, probably dates to about 1912 after he had completed his basic training.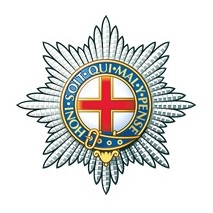 James arrived overseas with his regiment on the 13th August 1914, and so he served for a little over two months before his death. His brother Jonathan would later be sent money owing to James at the time of his death. The Soldiers' Effects Register entry is particularly detailed in this case, noting James's place and date of enlistment and also that his sister, Ada, was the beneficiary in his will.
James is buried in Perth Cemetery (China Wall) in Belgium. Coincidentally another 9573 J Foster was also killed in action on the Western Front eleven months to the day after James. 9573 Lance-Sergeant John Foster of the 2nd Battalion, Gordon Highlanders was killed at Loos on the 25th September 1915. He has no known grave and is commemorated on the Loos Memorial.