Belgium, Europe- A brand new vaccine distribution hub is set to be built in Gembloux, near Namur, which will serve as a logistical hub for the transportation of millions of vaccines all over the world, as per a report by contractor MG Real Estate Group.
The new building will predominantly be used by GlaxoSmithKline (GSK), a Pharmaceutical industry company which is one of the world's largest. In Belgium, GSK hires more than 9,000 people and produces vaccines from the largest production centre in the world at Wavre, Wallonia.
Elisabeth Van Damme, communications manager for DSK, mentioned in the statement, "It will be a one-of-a-kind building, the likes of which don't exist within 500 kilometres of our Wavre plant. It will have a capacity to store more than 42,00 pallets in five different temperature ranges, including -70° for the latest generation vaccines."
Moreover, the building will essentially be a gigantic fridge, storing vaccines at the optimal temperature for preservation before they are shipped off across the world. The giant fridge will also be able to store raw materials used in the production of other pharmaceutical products.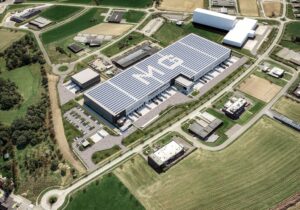 "It is a question of bringing together our different sites. This new centre will be a hub for the export of the millions of vaccines that we produce every day in Belgium," Van Damme added in the statement.
In April, the world's; largest vaccine manufacturer, the Serum Institute of India, stopped the production of COVID-19 vaccines.
As Europe prepares for another vaccination campaign in the summer, major pharmaceutical companies are gearing up to revive production in Europe.
It is hoped that this new logistical facility will help solidify Belgium's reputation as a pharmaceutical powerhouse. GSK expects to solidify its market position and firmly implant the company within Wallonia's logistical chain.