Britain's most decorated war hero died 16 years ago today. John Bridge won the George Cross and a bar to his George Medal for cold courage in defuzing several deadly magnetic mines in WW2.
But for the likes of John Bridge and other men of the Royal Navy's Rendering Mines Safe units taking suicidal risks to tackle unfamiliar and booby-trapped mines, British mercantile trade would have been crippled, and Germany would have won the war.
John Bridge was the 1st person to be awarded a bar to his George Medal. He and an Australian, Hugh Syme, are the only two people to earn the George Cross as well as a bar to the George Medal. The story of his quiet courage inspired me to write my latest novel, 'They Have No Graves as Yet'.
John Bridge was a schoolmaster teaching physics in Sheffield during the outbreak of WW2. Despite being a pacifist, he answered the call for volunteers to join the Royal Navy's new Rendering Mines Safe units, established to deal with magnetic mines being dropped by parachute on cities to create terror and destruction.
He was one of eight physics masters called on account of their scientific knowledge since the design of the German electronic fuzes in their mines was still a mystery to the Admiralty.
Having already won the George Medal twice, in August 1943, he was sent to Sicily to clear the harbour of Messina of some ingenious and deadly mines and depth charges. Such was the intricacy of the booby traps. All members of the previous disposal team had been killed or wounded.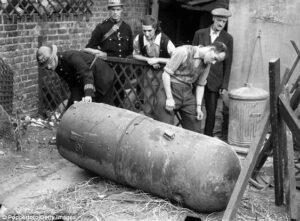 Even so, the pressure was on to clear the harbour for the Allied landings on the Italian mainland. In anticipation of such a requirement, Bridge had taught himself to dive and personally led his team on 28 dives to discover the new type of booby trap and clear over 200 charges in time for the main assault on Italy. One of his dives lasted 20 hours.
Nonetheless, this was not the end of Bridge's distinctive war service and heroism. In September 1944, whilst clearing unexploded mines and bombs in the port of Antwerp, he was flown urgently to Nijmegen to deal with two mines resting against the major Bridge crossing the river Waal.
The charges had been laid by German frogmen to delay the Operation Market Garden convoys. Another had already brought down the railway bridge.
Some people considered at the time that Bridge should have been awarded the Victoria Cross for successfully rendering safe the mines as the advancing forces were under fire, or at least a bar to his George Cross, but according to Bridge, his commanding officer informed him, "I thought of recommending you for another gong, but you have had your quota."