Belgium: The Lace Museum shared the details about two different floral sprays alternately blossoming over the length of this linen Binche bobbin lace border from Belgium. 
They took to their official social media account and highlighted that two different floral sprays alternately blossom over the length of this linen Binche bobbin lace border from 1710 Flanders (now Belgium). The 18.31 x 2.00" (465 x 51 mm) border, with a straight head-side (the edge with the picots), has cloth and half stitches for the design and a five-hole ground – simplicity which is unusual for a piece of this period and origin. 6.30" (16 cm) from the straight end, there is a very skilful join. The pattern repeat is 4.92" (125 mm).
Binche bobbin lace originated in the town of Binche, Belgium, 20 miles east of Valenciennes. It evolved in the 17th century from Old Flemish continuous lace. While both towns were annexed to France in 1678, Binche was returned to Flanders twenty years later. Valenciennes was not, so Binche remained Flemish in character. The early 18th-century laces of this type are similar to the Valenciennes lace of that time, so they are often classified as Valenciennes.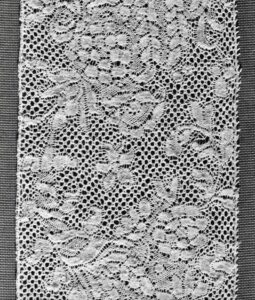 It was made in one piece on a pillow (a continuous lace) of fine thread, a flat, light lace with dense patterns, no gimp, picots on edge, snowflake ground, areas of cloth and half stitch, some different filling stitches and tiny holes defining detail in the motifs. Bobbin lace grounds are the open parts of lace, the filler between other parts of the pattern. 
The ground can also be called net or (in French) réseau. They are an important way to identify lace. Snowflake grounds are a defining characteristic of Binche bobbin lace.
For hundreds of years, the area around Binche and Valenciennes was renowned for lacemaking. 
After Binche was returned by France to Flanders in 1698, the lace continued to be Flemish in character and developed separately. There has been a revival of Binche in the Kantcentrum at Bruges. Since 1972, it has been made by advanced students in a form known as Point de fée or fairy point. 
This lace is only a 180-count flax thread, as the 1200-count thread is no longer available. Even with this thread that is 1/7 the size, a square centimetre (.39") takes about 2 hours to make.